Shares of FedEx Corp. surged toward their best three-day performance in 19 months on Thursday after two Wall Street analysts said it's time to buy, noting that the package delivery giant's announcement of job cuts shows that management is serious about cutting costs.
Ken Hoexter of BofA Securities raised his rating on FedEx to buy from neutral and lifted his price target to $233 from $204.
Citi Research's Christian Wetherbee also upgraded the stock to buy from neutral. His $240 price target makes him the most bullish of the 32 analysts surveyed by FactSet.
The stock
FDX,
+5.47%
ran up 7.3% in afternoon trading, putting it on track for its highest close since Aug. 26, 2022. It has soared 17.8% amid a three-day winning streak, which would be the biggest three-day gain since it rocketed 20.4% over the three days ending July 1, 2020.
Citi's Wetherbee said he believes FedEx is showing increasing signs that it's addressing the mistakes it made regarding costs in 2022. He said the job cuts announced Wednesday — including a 10% reduction to the executive team — on top of the $1 billion in cost cuts announced in December, set the stage for "a good start to incremental cost momentum" into fiscal 2024.
"Maybe most important, we think these moves provide some credibility that management is getting serious on streamlining the business," Wetherbee wrote in a note to clients.
He said that with the potential for a more benign backdrop for the economy and transport sector, "we see solid upside from the mid-$200s to $300" for the stock.
BofA's Hoexter said he believes FedEx could potentially be saving $560 million with the announced job cuts, which could provide a boost to quarterly earnings of roughly 40 cents a share.
"We are more confident in FedEx's outlook as it reduces excess capacity and enhances productivity," Hoexter wrote.
With Hoexter's and Wetherbee's upgrades, the majority of Wall Street is now bullish on FedEx. Of the 32 analysts surveyed by FactSet, 17 have the equivalent of buy ratings and 15 are neutral. There are no bears.
The average stock-price target is $201.44.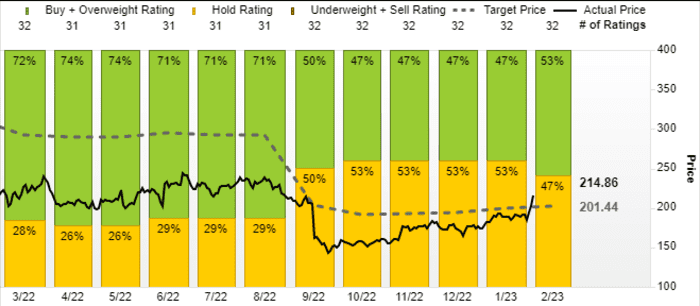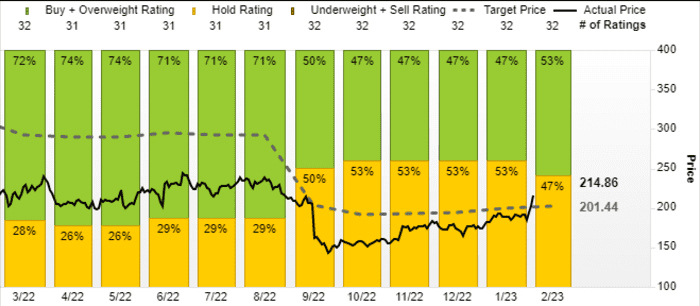 UBS's Tom Wadewitz didn't upgrade FedEx, but he reiterated the buy rating he's had on the stock for at least three years and kept his stock-price target at $225.
"While the magnitude of this specific action is meaningful but not large, we believe it is important in terms of providing visibility to investors that [FedEx] is indeed implementing cost reduction measures," Wadewitz wrote.
The stock has dropped 13.9% over the past 12 months but has soared 40.3% over the past three months. In comparison, shares of rival United Parcel Service Inc.
UPS,
+3.48%
have climbed 17.3% in the past three months, the Dow Jones Transportation Average
DJT,
+3.03%
has run up 21% and the Dow Jones Industrial Average
DJIA,
-0.65%
has tacked on 5.9%.
Credit: marketwatch.com