Another big data day will test the animal spirits that seem to be keeping stock markets from running off a cliff, despite rising bond yields and signs of a strong economy that may lock in tighter Fed policy for longer.
Onto our call of the day, which warns of "Volmageddon" from an increasingly popular short-term options strategy that could cause market chaos. It comes from a team led by JPMorgan's top strategist, Marko Kolanovic, who also warned of a U.S. stocks peak earlier this week.
Kolanovic and his team noted "very large volumes" on zero days to options expirations (0DTEs) — puts and calls on stocks and indexes that expire within 24 hours. Refresher: a call option gives an investor to buy an asset at a specific price by a specific date, while a put option allows an investor to sell that asset at a certain price by a certain date.
Kolanovic's chart shows what he sees as pretty high daily notional volumes — around $1 trillion.
His main concern is a repeat of what was seen in February 2018, when a spike in volatility crushed short volatility strategies, dubbed "Volmaggedon." By some estimates it wiped out $2 billion in investor assets.
"While history doesn't repeat, it often rhymes, and current selling of 0DTE (zero day to expiry), daily and weekly options is having a similar impact on markets," said Kolanovic.
"If there is a big move when these options get in the money, and sellers cannot support these positions, forced covering would result in very large directional flows. These flows could particularly impact markets given the current low liquidity environment," he added.
As he explained, these are typically "low delta options that rarely get in the money and their impact is mostly through volatility suppression and an intraday buy-the-dip pattern that results from hedging," Kolanovic says. Delta is a metric that measures how much the price of a derivative would change, given a $1 shift in its underlying security.
MarketWatch's Joe Adinolfi noted last October that 0DTE strategies were getting increasingly common, notably among institutional traders, who wanted to profit by anticipating the hedging activity of large options dealers.
Others have warned about 0DTEs and the risk they pose for markets. Seabreeze Partners Management's Doug Kass recently cautioned that investors had grown confident after the January market rally, but failed to realize how changing market structures had been influencing market direction, namely those options on the brink of expiring.
All this options talk comes as Bloomberg reports the possible return of the "50 Cent" VIX trader, who turned a loss into a profit of nearly $400 million, owing to tiny bets on a volatility spike during that February 2018 mayhem.
Transactions from late Tuesday showed an investor paid 50 cents each for 100,000 call contracts, with a value of $5 million. The bet is that the Cboe Volatility Index
VIX,
+1.59%,
which currently stands at 18, will soar to 50 by May. A similar purchase on Wednesday saw 50,000 such contracts bought at 51 cents each — a total of $2.6 million.
The markets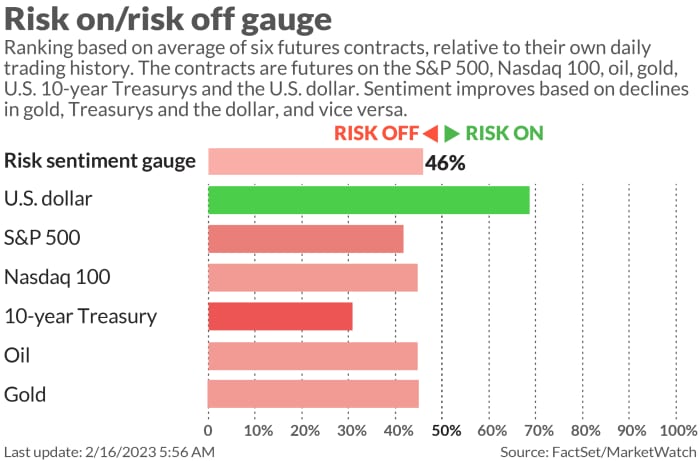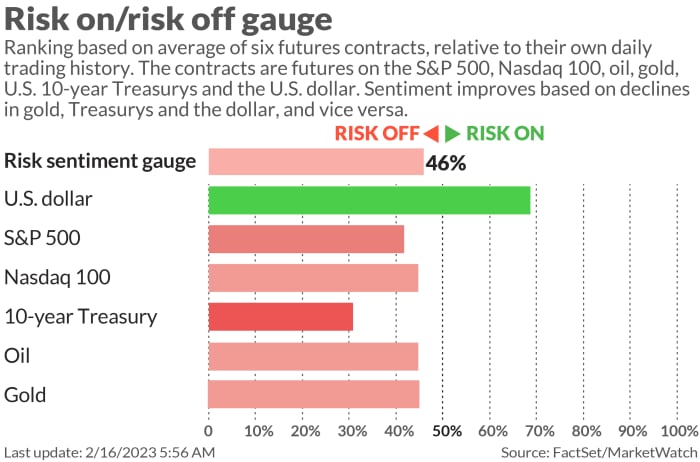 Stock futures
ES00,
-0.05%
YM00,
-0.01%
NQ00,
-0.03%
are steady, bond yields
TMUBMUSD10Y,
3.783%
TMUBMUSD02Y,
4.597%
and the dollar
DXY,
-0.25%
are lower. Oil
CL.1,
+0.32%
BRN00,
+0.23%
is down and natural gas
NG00,
+2.95%
is up. The FTSE 100
UKX,
+0.13%
hit a fresh record above 8,000, in part due to a weak pound
GBPUSD,
+0.18%.
Bitcoin is hovering at 6-month highs.
For more market updates plus actionable trade ideas for stocks, options and crypto, subscribe to MarketDiem by Investor's Business Daily.
The buzz
Cisco's stock
CSCO,
+1.57%
is rising on an earnings and revenue beat and an upbeat outlook, having seemingly made it through a pandemic pothole.
Shopify stock
SHOP,
+6.55%
is down 7% after the e-commerce company's disappointing forecast. Roku
ROKU,
+12.09%
is up 10% after the streaming-device maker's sizable revenue beat. And Zillow shares
Z,
+4.28%
are rising after the real estate services group also beat on revenue.
Chip-equipment maker Applied Materials
AMAT,
+0.86%
will report after the close.
Producer prices, weekly jobless claims, building permits and housing starts and a Philly Fed manufacturing survey are all due at 8:30 a.m.
The creator of famed Reddit community WallStreetBets is suing the social news aggregator for ousting him as moderator.
Best of the web
The hangover: Energy crisis has left Britain's pubs feeling hammered.
TikTok has emerged as the biggest, fastest-growing danger zone for child exploitation yet.
Seymour Hersh, alleges in an interview to a German newspaper that the U.S. government was prepared to see Germany freeze rather than stop supporting Ukraine. (German language)
The tickers
These were the top-searched tickers on MarketWatch as of 6 a.m.:
Ticker
Security name
TSLA,
+2.38%
Tesla
BBBY,
-0.52%
Bed Bath & Beyond
GME,
+9.71%
GameStop
AMC,
+14.89%
AMC Entertainment Holdings
APE,
+4.70%
AMC Entertainment Holdings preferred shares
AAPL,
+1.39%
Apple
NIO,
+1.84%
Nio
AMZN,
+1.46%
Amazon.com
MULN,
-8.76%
Mullen Automotive
SHOP,
+6.55%
Shopify
Random reads
Haunting 80-minute video of the first Titanic footage since it sank in 1912.
Russian and Ukrainian soccer players ended up in the same Turkish hotel. It didn't end well.
Need to Know starts early and is updated until the opening bell, but sign up here to get it delivered once to your email box. The emailed version will be sent out at about 7:30 a.m. Eastern.
Listen to the Best New Ideas in Money podcast with MarketWatch reporter Charles Passy and economist Stephanie Kelton.
Credit: marketwatch.com