If you blinked and suddenly it's February, you're not alone. Valentine's Day is just around the corner, and should you want to make a loved one feel special — whether it's a partner, Galentine, parent, or just someone who needs to feel a little extra love this year — flowers may be in order. Plus, who hasn't been listening to Miley Cyrus' awesome new anthem "Flowers" on repeat? (If you haven't yet, run, don't walk. Godmother Dolly approves, too.) "I can buy myself flowers," she sings. Heck, so can you:
That said, it can be a little difficult — not to mention pricey — to find quality flowers at prices that won't put you in the wrong kind of cupid's chokehold. So we've rounded up five of the best flower deals and services nationwide to help you get a little Valentine's Day love shipped to the door of your choice (with plenty more detail below):
One of our favorite deals (both my editor and I bought it for our moms for Mother's Day last year and the flowers were beautiful) is this one from StackSocial: Get 24 hand-picked, long-stem roses in a glass vase from Rose Farmers for just $49.99. When you purchase this deal (details below), you'll receive a voucher to use on Rose Farmers' website — note, however, that since only the freshest roses will be picked, you won't get to choose the color.
ROSE FARMERS: THE CLASSIC BOUQUET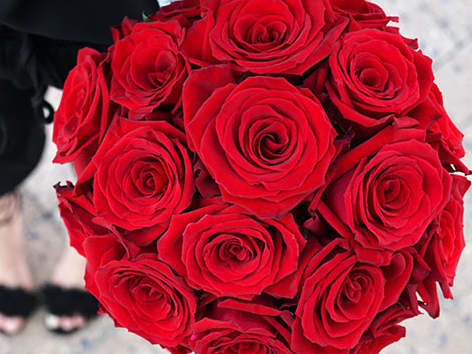 24 hand-picked long-stem roses with glass vase
$109.75 $49.99
2 dozen long stem roses
Glass vase included 
Shipping included in price
Delivered to continental United States (Alaska/Hawaii excluded)
There's something modern and unique about UrbanStems' gorgeous bouquets. UrbanStems also gets Insider Reviews' top honor for the best flower delivery service they've tested — "and we've tried a lot." If I had to choose one among the offerings at UrbanStems', I'd pick the Unicorn arrangement (wink, wink, nudge, nudge — you know, in case anyone I know is reading this).
URBANSTEMS: MODERN & UNIQUE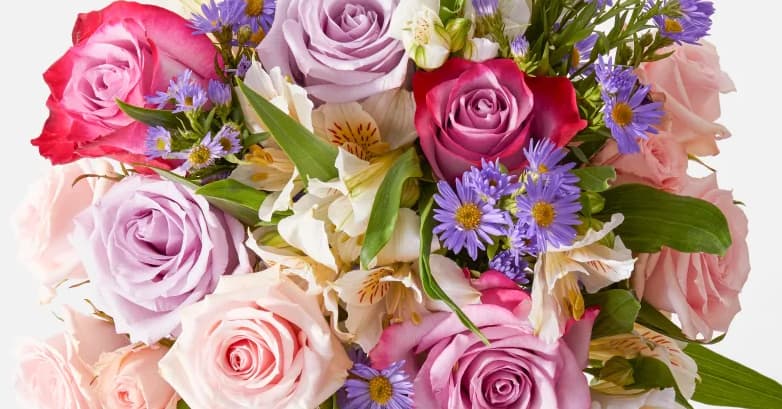 The Unicorn: Roses, Aster and Alstroemeria
$55 and up
A vibrant mix of two-dozen purple, lilac and pink blossoms
Add a vase from $12
Comes with a personalized notecard from the sender as well as flower food and a care card from UrbanStems to help keep your flowers beautiful
Plenty of options offer free shipping
The Bouqs Co.'s philosophy is "farm-direct, transparent sourcing," and the flowers are gorgeous. You can also find additional savings by considering one of their subscription plans. This rose bouquet is perfect if you'd like to send a lovely arrangement of multi-color flowers to your loved one. To ensure your roses stay fresh, some may arrive in bud form to maximize shelf life and last as long as possible. It could take two to three days for new buds to blossom, the site says. You can check out other bouquets from The Bouqs too if you'd like to mix it up here.
THE BOUQS: ETHICAL FLOWERS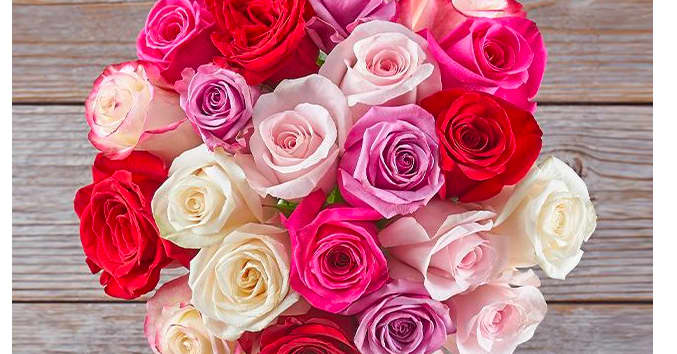 24 multi-colored seasonal roses
$79
Keep it simple with this beautiful bouquet of seasonal roses in assorted colors
Add vase of choice for additional fee ($10-$15 extra)
FedEx and local delivery
Start a subscription and save 30% + free shipping on this order
FTD's tried-and-true delivery service says they source their blooms from local florists, meaning purchasing a Valentine's Day from them can help support local businesses. Not bad. This bouquet comes in a box and features a colorful combination of lilies, roses, daisies and carnations. Check out the best-selling arrangements FTD offers (featuring other gifts in case your sweetheart isn't a big flower person) here.
FTD: HELP SUPPORT LOCAL BUSINESSES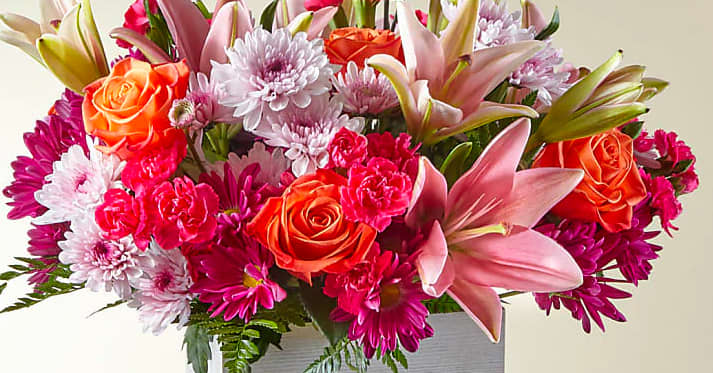 Light of My Life Box Bouquet — lilies, roses, daisies, carnations
$85
Comes with box for display in your home
The Premium Bouquet is approximately 12″H x 15″W
Created by a local florists and ready for display
If you've ever thought to yourself "gee, Amazon has everything, I wonder if I could order last-minute Valentine Day's flowers from them" — the answer is yes. There are actually many options for gorgeous flowers from the online retailer with good reviews, including this box of preserved roses — perfect for the cynic looking for a more permanent gift. To check out the wide variety of options and bouquets (including some that aren't too Valentine-y at all), click here.
AMAZON: FOR A LITTLE SOMETHING DIFFERENT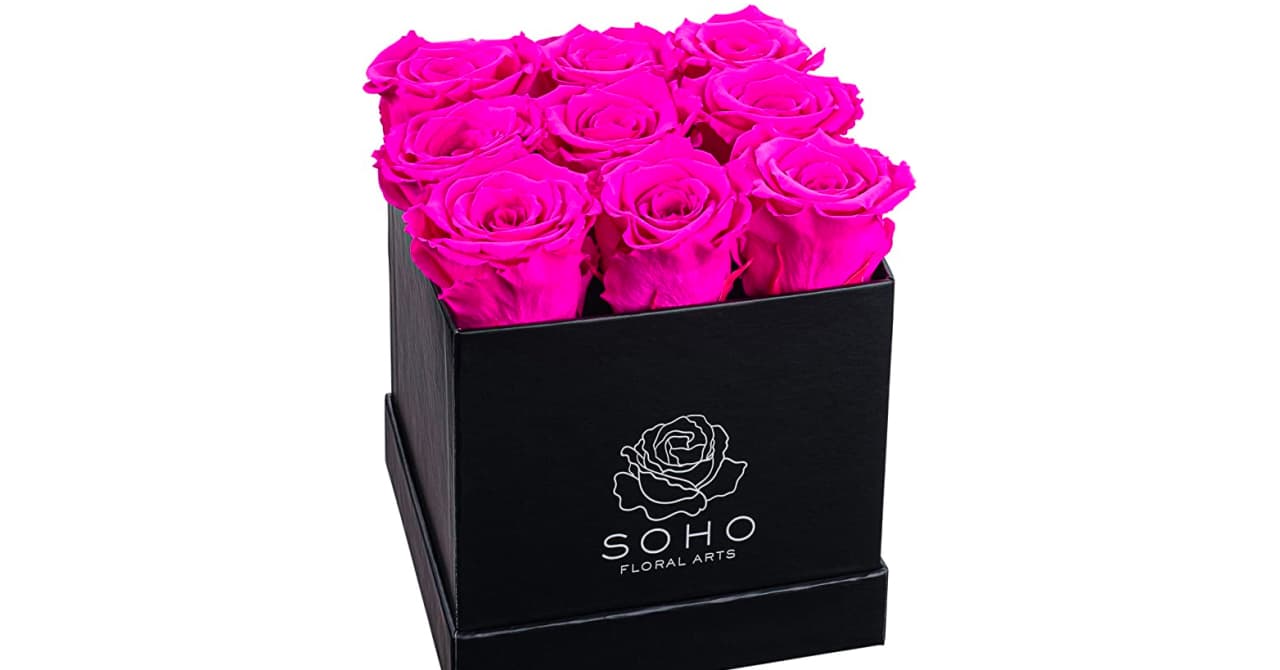 Soho floral arts preserved roses box
Price range: $63.97 – $119.95
Real roses that can last for 2-3 years with no maintenance
Comes with 9-16 blooms in various colors and boxes
Prime members can get free one-day delivery
Fragrance-free
The advice, recommendations or rankings expressed in this article are those of MarketWatch Picks, and have not been reviewed or endorsed by our commercial partners.
Credit: marketwatch.com